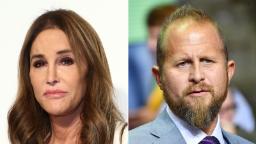 Parscale, who has known Jenner for a few years, agreed to help as a "friend" and is not a paid adviser, according to the source. He is assisting her in finding people for key campaign roles if she goes forward with it.
The New York Times first
reported
news of Parscale advising Jenner, an American television personality and retired Olympian.
California
Gov. Gavin Newsom
currently
faces a burgeoning recall effort
that began last year, fueled by anger over the restrictions he had put in place to curb the spread of coronavirus in California. The recall campaign gained steam as prominent state Republicans threw their weight behind both the organizing and fundraising efforts.
Axios
reported
Tuesday that Jenner was speaking with political consultants in considering a run for the governor's seat, citing three sources with direct knowledge of her deliberations.
Parscale was lauded by Trump and his allies as a digital guru who helped secure Trump's first election effort. He worked for the Trump family years before Trump launched a presidential bid and he ascended to a role leading the campaign's data analytics team in June 2016. Until he worked on the Trump campaign beginning in 2015, the digital media expert had never worked in politics.
After Trump won the presidency in 2016, Parscale worked with America First Policies, a pro-Trump political organization, and became campaign manager in February 2018.
CNN's Maegan Vazquez, Veronica Stracqualursi, Kara Fox, Kaitlan Collins, Hollie Silverman, Jeremy Diamond and Paul LeBlanc contributed to this report.